Kurt DX6
Machinist Vises
With standard 6" or GripSert-compatible jaws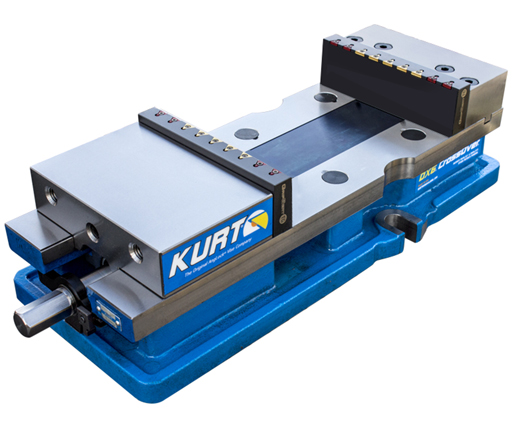 Part Options

---
Description
---
Kurt DX6 Crossover Vise complete with TGJ-06 GripSert Jaws and a 10-pack of TG-STD Workholding Gripper Inserts. This vise is equipped with standard Kurt 6" jaws that allow a clamping capacity up to 9". Also includes a pair of easy-to-install TG GripSert jaws and a 10-pack of TG-STD GripSerts.

TG GripSert workholding inserts offer many advantages over traditional clamping systems. With a clamping height of .14" (3.5 mm), more of the workpiece is exposed for less waste and the elimination of dovetailing. TG GripSerts' specialized triangular teeth design dampens vibration which allows secure holding strength, even at lower clamping forces and avoids deforming the workpiece. The serrations are designed to penetrate a steel workpiece material. Inserts for hardened steel/titanium and aluminum are available separately.

The vise set includes complete DX6 vise set with standard Kurt vise jaws, a pair of TG Gripsert jaws, a parallel pair, ten insert screws, a Torx T9 wrench for GripSerts installation, and a 10-pack of TG-STD GripSert inserts. Also includes hex handle assembly to operate the moving support jaw. Clamping capacity up to 9".
Media
---
Selected Part
---
Generating CAD viewer. Please wait...
No file is available for download.
Request A Quote
---
---