MP-2805x
Spring Loaded Supports
Low profile, heavy duty, with or w/o tip
Product Types
---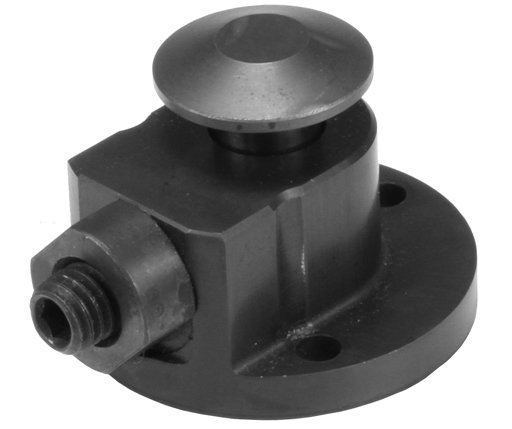 Part Options

---
Description
---
These adjustable heavy duty spring loaded work supports feature a modular design that can support up to 3,100 lbs. They are ideal where space is limited, and support is needed to eliminate chatter and workpiece deflection. The work support is locked into place by tightening the setscrew on the side of the support using a 3/16 hex wrench. Once locked into position, the work support will not compress. They are available with or without a tip. The without tip style allows the user to fabricate a contact tip to meet special application needs. The tip is press fit onto the support cylinder. The flange base mounts using #10 socket head cap screws. Made from hardened tool steel with a black oxide finish.

For proper operation of the supports:
1. Fully compress the work support and lock in the compressed position.
2. Clamp the workpiece into the fixture.
3. Unlock the work support so the spring loaded tip contacts the workpiece and then tighten the setscrew on the support to lock into position.
4. Do not apply heavy clamping forces directly over the work supports.
Selected Part
---
Generating CAD viewer. Please wait...
No file is available for download.
Request A Quote
---
---