T Series
Production Vises
Size T60 or T90
Product Types
---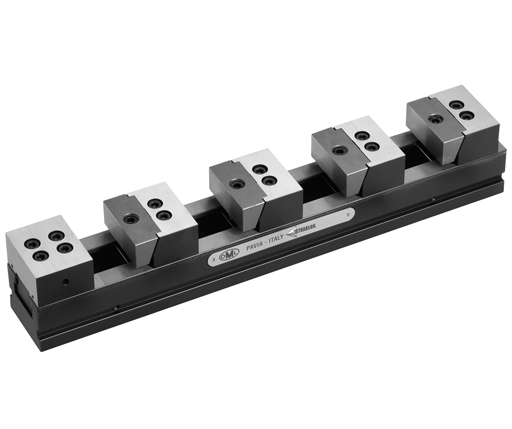 Part Options

---
Description
---
TriMax T Series of vises is a complete multi-part clamping system that reduces downtime and maximizes machine tool capacity. Made to clamp up to four workpieces at a time, multiple movable jaw sets can be positioned along the vise body to handle a wide range of workpieces. Once the vise is set up, the jaws are activated by turning the screws on the jaws, holding the parts securely without distortion. These vises can clamp square, round and irregular shaped workpieces and are precision ground for accuracy and durability. Designed for horizontal, vertical and 4-axis machining centers and grinders and other machines.

TriMax T vises are available in widths of either 60 mm or 90 mm (T60 or T90 types). Each of these complete vise sets includes a base, a fixed jaw set, four sets of movable jaw sets, five work stops and a T-wrench. Three base lengths are available (400 mm, 500 mm and 630 mm) to fit a wide variety of mounting options and machining configurations.
Selected Part
---
Generating CAD viewer. Please wait...
No file is available for download.
Request A Quote
---
---