Lx
Wire Rope Lanyards
Loop-eyelet, 1/16" or 3/64" wire, sleeve material and cover color options
Product Types
---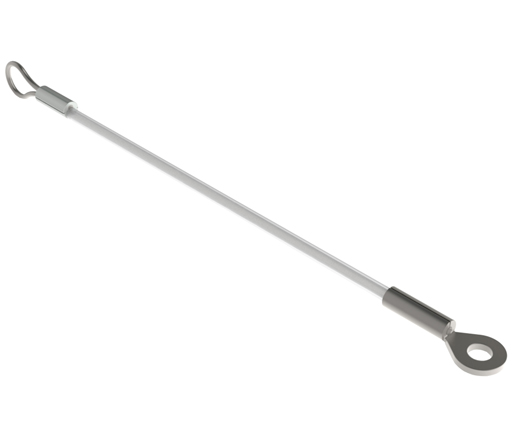 Part Options

---
Description
---
These wire rope lanyard assemblies are used to attach quick release pins to a fixture or frame, to prevent the pins from being misplaced while they are not in use. The wire rope lanyard assemblies made from 7 x 7 stainless steel wire and are available either uncovered (bare cable) or covered. The vinyl covered assemblies are available in either clear, black or green. The 1/16" wire is covered to 1/8" diameter. The rated break strength of the 1/16" wire with the eyelet is 30 lbs. The cable sleeves are manufactured from zinc plated copper with stainless steel sleeves available on request. The eyelet is made from 300 series stainless steel. In addition to the standard parts listed, we can provide custom lanyards based on your exact requirements.
Selected Part
---
Generating CAD viewer. Please wait...
No file is available for download.
Request A Quote
---
---