QCTH
Quarter-Turn Fasteners
Plastic or stainless knob
Product Types
---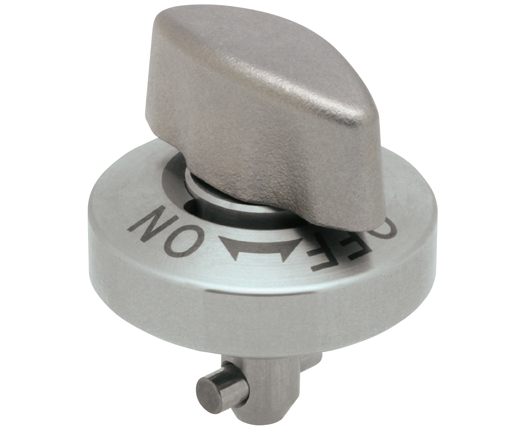 Part Options

---
Description
---
Positive locking in quick change applications where there is frequent insertion and removal of a fixture. They allow for consistent fastening force, eliminating the chance for under or over tightening by the operator. They are designed to be used with the cam receptacles. The fastener is mounted to the fixture and the receptacle is mounted to the base. As the fastener is inserted into the receptacle, the pins on the fastener align with the grooves in the receptacle. The spring in the fastener allow for a range of fixture thicknesses. Turning the knob one quarter turn aligns and locks the fastener into place. The fasteners are marked with "ON" and "OFF" indicators to show the position of the fastening pins. They can be used with locating pins to provide highly accurate positioning. The body is made from 303 stainless steel. The shanks are made from 303 stainless steel with a natural finish. The pins are made from 304 stainless steel. The knob is made from 304 stainless steel. Three socket head cap screws for mounting are included. (M3X0.5 - 6 mm long or M2X0.4 - 5 mm long). The receptacles are available in two mounting styles – thin plate and embedded.
Media
---
Selected Part
---
Generating CAD viewer. Please wait...
No file is available for download.
Request A Quote
---
---
---