Fixtureworks Offers GripShape Robot Gripper Tooling Solutions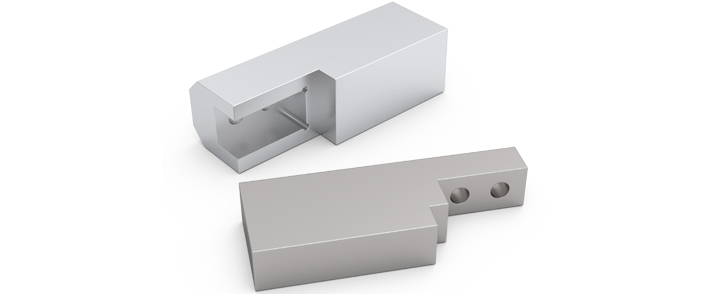 GripShape Finger Blanks are a fast and convenient option for creating a custom gripper design. Save machining time by starting with these gripper finger blanks and customize to match workpiece shape and application needs.
GripShape Standard Finger Blanks
IMAO Fixtureworks is expanding its product offering to include automation components specifically aimed at making the integration of collaborative and industrial robots easier by offering a wide variety of robot gripper tooling solutions from GripShape.
GripShape's line of standard finger blanks are perfect for companies with limited design or manufacturing capabilities. With critical gripper module geometry already designed and machined into the blanks, getting the right grasp on the workpiece is as simple as machining the grip area to fit and bolting the set of fingers onto the module. This method takes the guesswork out of the process and allows most tool room personnel to easily create a set of custom grippers.
"Blanks are a great way for a company to effectively use the resources they have and quickly get a set of fingers that work the first time", highlights Nick Jenks from Fairlane Products. "As more non-manufacturing companies are integrating robots, it will be important for them to get components that will interface perfectly with their gripper modules without needing to design the parts from scratch."
Semi-custom gripper fingers are coming soon and will be available for a wide variety of popular gripper modules from manufacturers like Schunk, SMC, Gimatic, Robotiq, Weiss and more. These fingers will standardize proven geometry that is currently engineered into custom, one-off finger sets for applications such as machine tending, pick-and-place, and assembly. Engineers, designers and end users will be able to reduce costs and lead times associated with custom machined parts by selecting a standard finger that contains the grip type, finger length, workpiece orientation, and clearances specific to their module.
All of the GripShape fingers come with the mounting hardware needed so bolting up a new pair of fingers has never been easier.
Want to learn more about our automation solutions?
Contact us at 888-794-8687 or email [email protected]
IMAO Fixtureworks manufactures and supplies a wide assortment of unique industrial products that range from modular fixturing components and workholding devices, including clamps, workholding gripper inserts, supports, and locators, to standard machine elements, including pins, material handling rollers and bumpers, fasteners, adjustable handles, cam levers, and more.
GripShape Blank Gripper Fingers Lineup