Spring-loaded Swing Clamps from IMAO Fixtureworks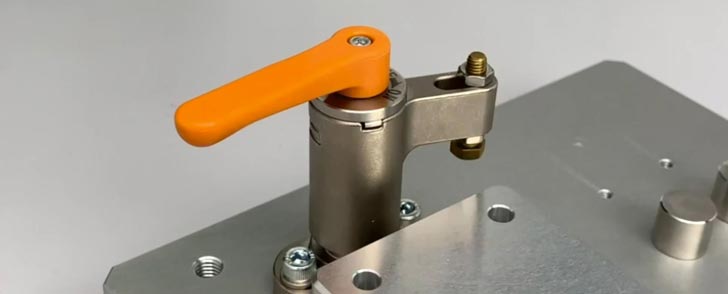 Imao Fixtureworks Spring Swing Clamps are mechanical tool-less clamps with constant clamping force by spring pressure.
October 26, 2022
Fraser, MI – IMAO Fixtureworks, manufacturer and supplier of workholding components, introduces a new line of compact spring clamps that provide quick, error-free clamping. The new Spring Clamps line is specially designed to prevent over/under tightening and to secure one-touch clamping without workpiece damage.
Compact in design and with a small footprint, spring swing clamps can be integrated where there is limited space. They are ideal for applications with height limitations where toggle clamps cannot be used.
The spring-loaded design of these swing clamps provides constant clamping force through spring pressure. Ideal for delicate workpieces, the handle is designed to click at its clamping end which prevents over/under tightening. No tools are needed to clamp down on the workpiece. Simply turn the one-touch handle until it clicks.
Quick Spring Clamps are available with a left or right clamping direction and in six compact sizes.
Specifications, CAD models, pricing and ordering are available online at www.fixtureworks.com. Customers can also request a quote or technical product assistance.
Spring Clamps Lineup