Heavy Duty Pin Holding Fasteners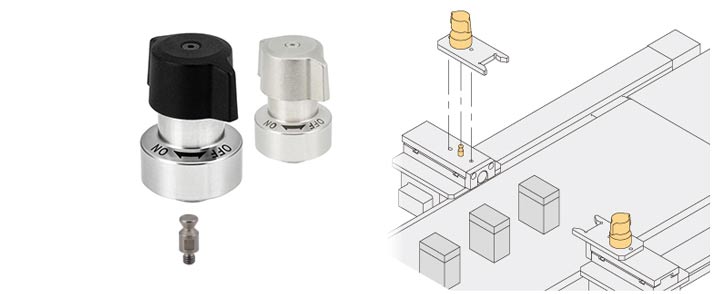 Introducing a new line of heavy duty quarter-turn fasteners that mounts on a compact, space-saving pin.
Jan 12, 2022
Fraser, MI – IMAO Fixtureworks, manufacturer and supplier of workholding components, offers a new lineup of Quarter-turn Fasteners for quick and easy tool-less clamping. Heavy-duty Pin Holding Clamps feature a holding force as high as 750N. The fastener firmly locks onto a small clamping pin, enabling the user to save on space needed to mount and operate.
Like all quarter-turn fasteners in the Fixtureworks lineup, the fastener locks and unlocks with a simple turn of the knob - no tools needed. Turning the knob a quarter-turn locks the fastener into place with the grip of four balls.
ON/OFF markings and perceptible "click" clearly indicate the locked and unlocked states.
These heavy-duty clamping fasteners provide positive locking in quick change applications where there is frequent insertion and removal of a fixture. They allow for consistent fastening force eliminating the chance for under or over tightening by the operator.
The fastening clamp bodies are made from 303 stainless steel, and the knobs are available in black plastic or stainless steel.
IMAO Fixtureworks manufactures and supplies a wide assortment of unique industrial products that range from modular fixturing components and workholding devices, including clamps, workholding gripper inserts, supports, and locators, to standard machine elements, including pins, material handling rollers and bumpers, fasteners, adjustable handles, cam levers, and more.
Heavy Duty Pin Holding Clamps Lineup